Yonkers is the most populous city (out of the six) located in Westchester County. It is also the fourth most populous city in the state of New York. With nearly 200,000 residents, Yonkers New York occupies a little over 20 square miles. Although there are close to 40 distinct neighborhoods in Yonkers, the city is mostly assumed to be divided into four quadrants. To the east of Yonkers is the Bronx River with Bronxville, Tuckahoe, Mount Vernon, Eastchester, and Scarsdale nearby. To the north lies the town of Greenburgh, and to the west is the Hudson River. Directly south of Yonkers is the Bronx borough of New York City. Yonkers NY is only located two miles north of Manhattan at the two cities' closest points. Yonkers real estate varies and continues to be a popular place among buyers.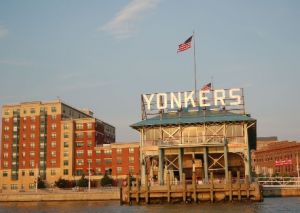 There are many things to do in Yonkers. For those who enjoy shopping, there are many spots along Central Park Avenue near Yonkers homes for sale. Additionally, the Cross Country Shopping Center in the city of Yonkers offers over 1 million square feet of retail space. For entertainment, there are numerous historical landmarks, as well as museums, including the Hudson River Museum and the Sherwood House, built in 1740. The city holds many events, including free opera, ballet, theatre, dance, and music shows. There are also many festivals, including the Yonkers Riverfest. The Yonkers Philharmonic Orchestra, sponsored by the Fine Arts Orchestral Society, provides great music five times a year to residents and visitors.
Each quadrant of Yonkers varies and has its own unique character. The Northeast quadrant, which includes popular Crestwood, includes elegant vintage homes that range from stately Tudors to revitalized Victorians. To view Yonkers real estate, use the map search tool below, or contact us today!